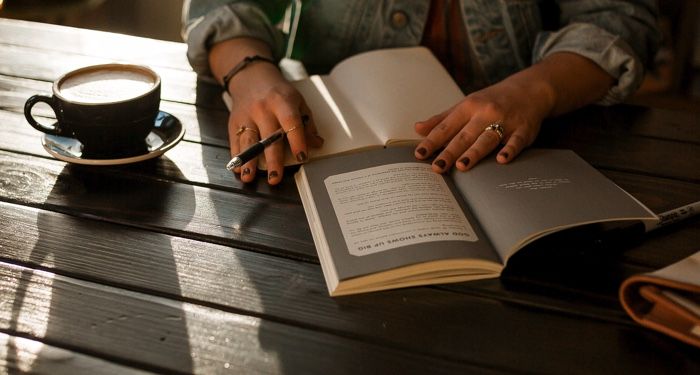 At the start of this year, I decided that one of the things I constantly wanted to track in 2021 was a reading journal. There were a lot of reasons I wanted to create one: I felt like Goodreads and similar websites no longer gave me the kind of outlet to voice my thoughts about the books I wanted most. These seemed a bit too socially oriented to me, whereas I wanted something more personal. I also wanted to keep more information about the books I read, so that when I wanted to talk to someone about books or write about books, I would have a real point of reference rather than my high memory. And so, I set out to create my reading journal. I picked up one of my notebooks that were collecting dust on the shelves, some old stickers and washi tape and started doing my first page. There has been a lot that I have learned in this year from keeping a reading journal.
First of all, consistency. I went through my reading journal with the aim of updating it a few times a month. I know I'm not the type of person who can sit down and write their thoughts down on every book I read, so I wasn't going to try to force myself to change. I wanted the idea of ​​writing in my reading journal to be fun – not like a chore. At first I was very good at being consistent. In the first few months of the year, I was obsessed with reading my journal. There were few things I loved more than sitting down with my headphones on and leaning over new spreads. Sometimes the thought of writing in my reading journal was what made me excited to read.
But unfortunately, as the year went by and I got busier and busier, I became less and less enthralled with the journal. I hadn't wanted it to be a chore, but sometimes I felt like it. So while my reading from January to June was excellent and full of newspapers, it quickly started to decline in July. I lost speed and motivation and in November / December I was barely picking up my reading journal.
The visual aspects of the journaling also had a big impact. I was drawn to journaling when I had the time and motivation to doodle on my pages or decorate with stickers, prints, and washi tape. But when I had less time for these things, my motivation for journaling declined. It makes sense – definitely one of the attractions of journaling for me was seeing how people could create these very creative journal pages. I wanted to do that too! But as someone who isn't particularly good at visual creativity, it took a lot more effort from me than I really could spare.
So I had to sit down and try to figure out how to compensate for that. The answer came in the form of digital journaling, which I plan to try next! With digital journaling, it's easier to import things like stickers and pictures to spruce up your journal. It's also easier to let your creativity run wild with your own doodles and art, because if you mess up, it's easily removable with a single click.
I also found that while I liked the personal touch of a reading journal, I sometimes missed the social aspects of websites like Goodreads, where my reviews received engagement from others. I had tried to replace the social aspects of reading, but now I realize that was probably a big mistake on my part. The social aspects of reading are really important to my reading life. Whether that means writing a quick Goodreads review, tweeting, or even telling a friend what I'm reading. A reading journal certainly can't make up for all of this… so the key is probably to try and combine them all together.
As the end of the year approaches, I cannot say that my newspaper reading experience went exactly as I had hoped, or as I had hoped. But I learned a lot about what works and what doesn't for me. And I will put everything I learned into the New Year!
Want to keep your own reading journal? Here are some reading reviews to consult!