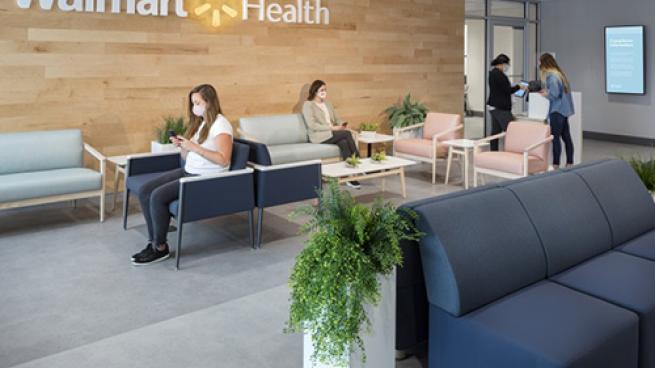 Walmart continues to expand its healthcare partnerships.
Retail giant partners with health records systems company Epic to integrate all of Walmart's health and wellness business lines – across channels. By creating a single, unified system, the retailer intends to engage patients, healthcare professionals, insurance companies and other stakeholders in its Walmart Health offering through a unified portal. The Epic EMR platform will support all of Walmart's lines of health and wellness activities as it rolls out and will first be implemented in four new Walmart health centers that will open in Florida in early 2022.
[Read more: Walmart Health expands to Illinois; Florida is next]
The Epic online portal allows patients to securely access their health information, communicate with their providers, make appointments and pay their bills on their phone or computer. Walmart is working with Epic on the heels of two major healthcare technology acquisitions earlier in recent months.
In June 2021, Walmart acquired the technology platform, patents and intellectual property from CareZone, which has developed an application that helps people manage their health information and medications. Individuals can also use the app to scan insurance labels or cards to speed up and simplify the process.
CareZone, which also operates an online pharmacy that puts customers' medications in pill packs and delivers them to patients by mail, will remain a separate company unrelated to Walmart. At the time of the acquisition, Walmart said CareZone would increase its current health and wellness capabilities and support its focus on the digital healthcare solutions process.
And in May 2021, Walmart announced plans to acquire MeMD, a multi-specialty telehealth provider. The purchase will allow Walmart to expand its Walmart health services by providing access to virtual care services across the country. Walmart said the services, including urgent, behavioral and primary care, will complement its in-person Walmart Health store offering.
Meanwhile, Walmart's main rival, Amazon, has extended its on-demand telehealth service, Amazon Care, to its own employees and third-party partner companies since March 2021.
"Our vision to provide the best healthcare, anywhere, anytime includes a seamless experience for our customers, healthcare professional partners and associates. Leveraging top partners like Epic and their technology platform will help us deliver a unified health record across care settings, geographies and multiple health data sources, "said Dr. Cheryl Pegus, Executive Vice President, Walmart Health & Wellness. "The Epic system complements our omnichannel healthcare offerings – enabling customers and healthcare professionals to access healthcare and healthcare records to lead to more personalized care. "
"We are excited to realize Walmart's vision of providing comprehensive and accessible health care to patients across the country," said Alan Hutchison, vice president of population health at Epic. "Across medical, dental and virtual care, patients will have a unified experience, both within Walmart Health clinics and as they move through the nation's healthcare ecosystem. Providers will have new ways to collaborate more effectively with patients, payers, and each other, so they can work cooperatively to manage a patient's journey of care.
Walmart operates approximately 10,500 stores and clubs under 48 banners in 24 countries and e-commerce sites.