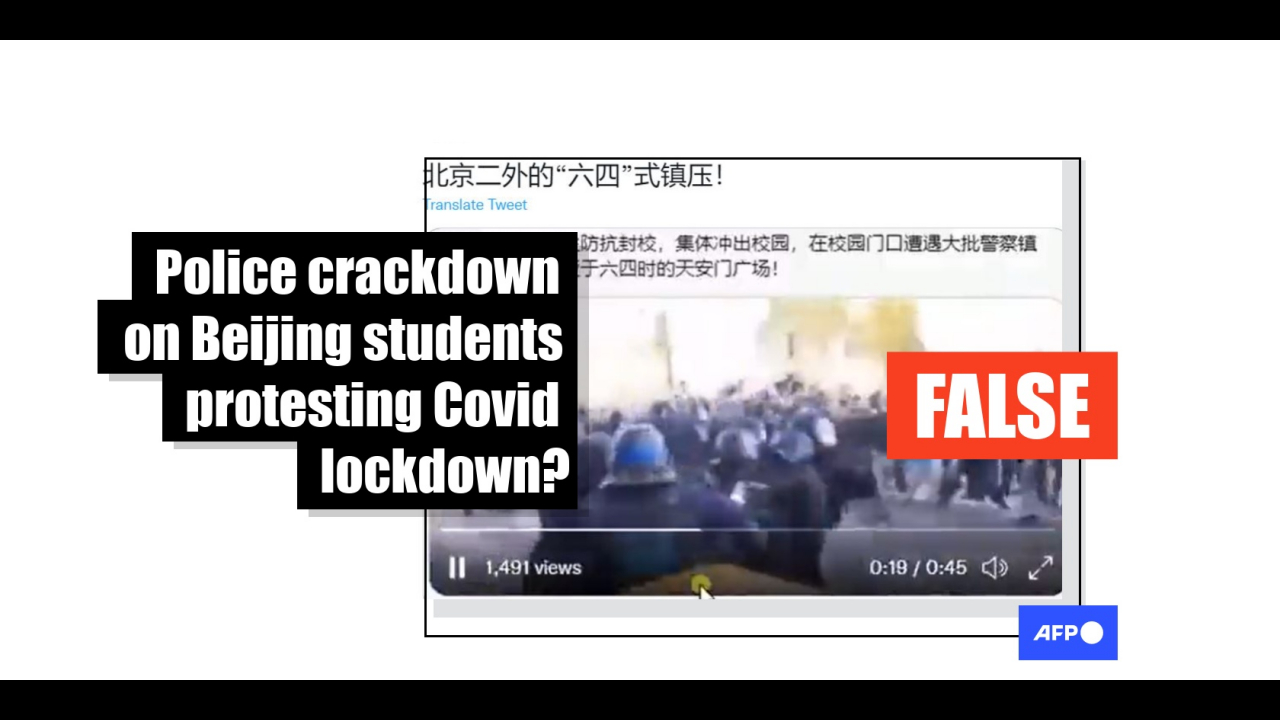 Copyright AFP 2017-2022. All rights reserved.
A video has been viewed thousands of times across several social media posts alongside the claim that it shows a violent police crackdown on students protesting a Covid-19 lockdown at a Beijing university. Although there have been reports of student protests against pandemic-related restrictions in the Chinese capital, the video was shared in a false context. It shows excerpts from the May Day protests that turned violent in Paris.
The 30-second footage was shared on Twitter on May 11.
It shows clashes between protesters and riot police and has been overlaid with simplified text in Chinese which translates to: 'A large group of students from Beijing International Studies University protested the lockdown from school, collectively rushed onto campus and were met with repression by large groups of police officers.
"The intensity was comparable to the June 4 crackdown in Tiananmen Square!
The Twitter post's caption makes a similar claim, comparing the video to the Tiananmen crackdown in 1989 when the government launched tanks and troops at peaceful protesters.
Screenshot taken on June 9, 2022 of the fake Twitter post
The post circulated after staff and students at Beijing International Studies University reportedly protested Covid-19 restrictions.
Students at another university in China's capital, the elite Beijing University, also protested against tough Covid-19 restrictions on campus in a rare show of defiance, as anger mounted over controls viruses.
China is the only major country to adhere to a rigid zero-Covid policy and its restrictions have sparked frustration with lockdowns, spartan quarantine facilities and tough enforcement.
The video has been viewed over 4,000 times alongside a similar claim on Twitter here and US social media site Gettr here.
However, the video was shared in a false context – the clips were shot in Paris.
A reverse keyframe search found several clips matching parts of this May Day report published by Turkish television channel Sözcü TV on a May Day rally that turned violent in the French capital.
Below are screenshot comparisons of the video in the fake posts (left) and the video posted by Sözcü TV (right):
Screenshot comparisons
Rallies for workers' rights in Paris turned violent as young people clashed with sidelined police and buildings were vandalized, AFP reported.
Meanwhile, the clip used from the 25 second mark of the video in the fake posts are portions of this clip shared by Local Team, an Italian video platform, on Twitter on May 1.
The Twitter post also says the clip shows protests in Paris.
Below is a screenshot comparison of the video in one of the fake posts (left) and the Twitter clip (right):
Comparison of screenshots of the video in one of the fake posts (left) and the Twitter clip (right)
The locations shown in the clips correspond to Google images of the streets of Paris here and here.
Below are screenshot comparisons of the clips (left) and their corresponding images on Google Maps (right).:
Screenshot comparisons of the clips (left) and their corresponding images on Google Maps (right)