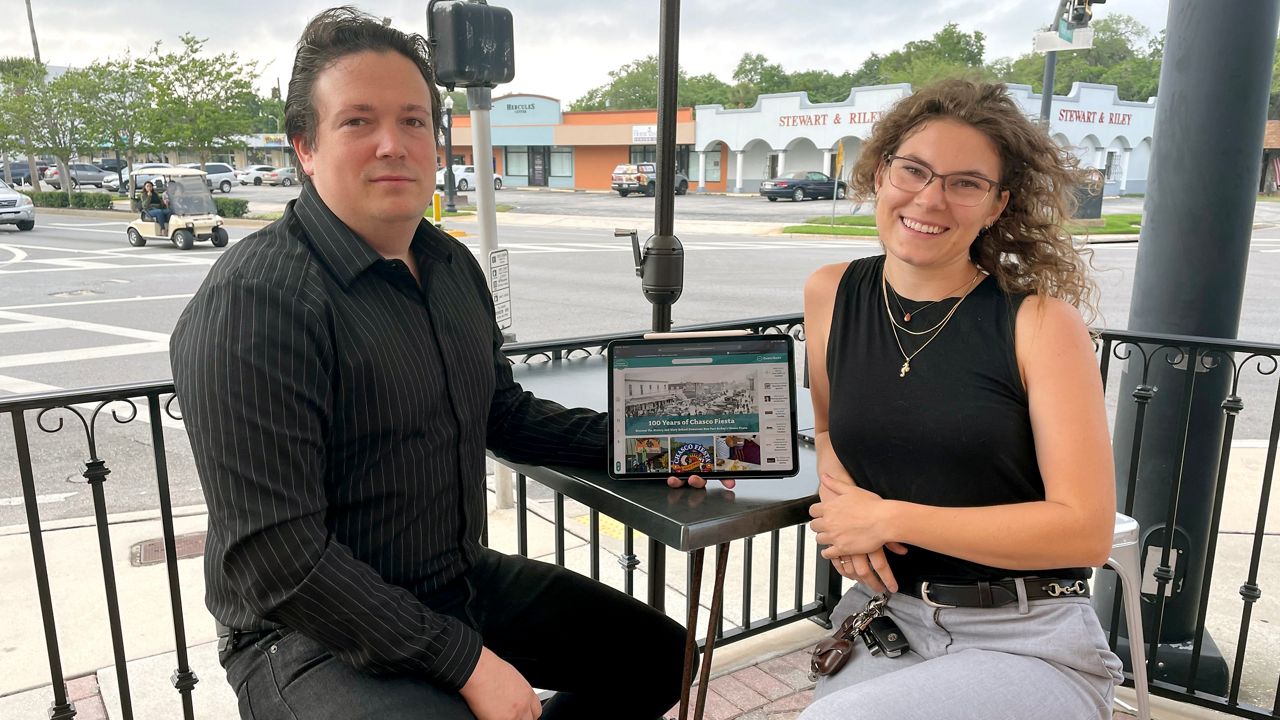 NEW PORT RICHEY, Florida. — It's a one-stop-shop for news and happenings from the heart of New Port Richey – it can even answer the sometimes dreaded question: "Where do you want to eat?"
But the creators of DowntownNewPortRichey.com say that basically the website is a free resource that small businesses can use to market themselves.
---
What do you want to know
DowntownNewPortRichey.com launched in July 2021
Its creators say the site is a one-stop-shop for downtown news, events and business profiles
Business profiles are created for free to help stores, restaurants, etc. locals to make themselves known
While its creators say the site wasn't created because of the pandemic, they say the crisis it created for businesses helped speed it up.
---
Justin Tabb and Ella Cowen are co-founders – Cowen calls Tabb the "nerd" of the operation.
"Business owners need a lot of resources to make things happen often, so we wanted to make it really easy," said Tabb, CEO of Better Business Network, which runs the website.
Tabb calls Cowen the "in-field boots".
"That means I'm supposed to be the first person these downtown businesses see when they hear about the Downtown New Port Richey project," Cowen said.
Since launching in July 2021, the site has become a place to find out more about any downtown business – its location, hours, and even a little history.
For example, search for "Railroad Square Bakery" and you'll learn that it's "a mother-son operation that cooks all day long!" The bakery opened on Main Street during Christmas week.
"People love fresh bread – things are going well, you couldn't ask for anything better," said Joshua Scott, a member of the bakery's management.
Scott said word of mouth and the Railroad Square Facebook page attract customers. He doesn't have an official website yet, but he has his profile at DowntownNewPortRichey.com.
Scott said he couldn't say for sure how it impacted the business, but he was glad the bakery was a part of it.
"There's nothing but great things with all the exposure you can get from whatever everybody wants to do," he said.
Tabb said the idea for the website predated the pandemic, but the crisis helped accelerate the project.
"It was born out of a desire to provide small business owners with a better solution, something that didn't have as many strings attached," said Tabb, who also owns digital media agency jptabb+Co. business owners don't have "I don't have full-fledged websites with lots of different options. They don't necessarily have all the tools you need to succeed in a situation like the pandemic has created. So that's definitely something that sped up the process."
Profiles can be upgraded with video and other extras, but they start for free.
"I think it's important to create more awareness in companies where you come in as a customer and leave as family," Cowen said. "You know, COVID has really brought a lot of people into these small businesses, but they're still hurting."
Tabb and Cowen said DowntownNewPortRichey.com is just the start. They plan to launch similar sites for city centers like Dunedin, Tarpon Springs and Brooksville in the coming months. Tabb said his reason for wanting to start in New Port Richey was personal.
"Downtown New Port Richey is actually a stone's throw from where I grew up," Tabb said. "My grandma and mom really believed in New Port Richey. They loved downtown. I felt like it was the right thing to do to start the roots of everything in my hometown."
The site also includes some fun features, like a profile of the ducks that call the city center home and Restaurant Roulette, which will choose where you should eat so you don't have to. Tabb said the site currently has 10,000 monthly users.