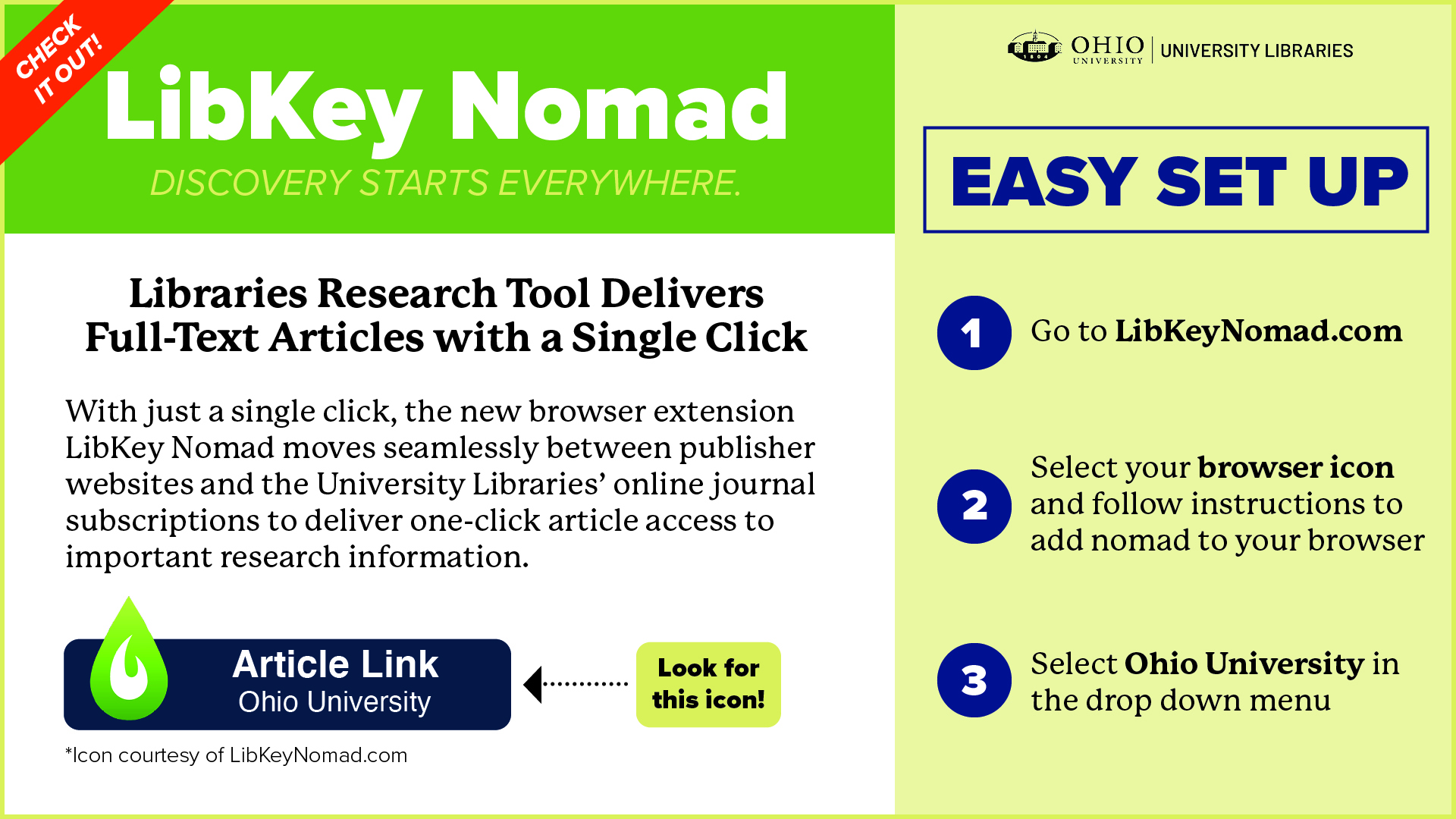 Graphic design by Brooke Stanley / Ohio University Libraries
Students, faculty and staff can now access millions of full-text articles from scholarly editors with the new search tool LibKey Nomad. Made available at Ohio University Libraries, new browser extension moves seamlessly between publisher websites and academic library online journal subscriptions to provide one-click access to important research articles.
Purchased early in the pandemic for OHIO researchers, this vendor-based tool facilitates direct access to full-text articles through the publisher's website.
"Everyone's journey in scholarly literature is different. There is no one right way, " Dr Kelly Broughton, deputy dean for research and education services, said. "The problem is, a whole bunch of these paths come up against a pay wall."
LibKey helps avoid having to navigate complex search to bypass these paywalls to read full text articles. Once installed on the user's browser, the Ohio University "Link to Article" button will appear on the publisher's web page for journal articles purchased by academic libraries. And, for publishers like Elsevier, once the user goes through the multi-factor authentication process, they'll be directly linked to the PDF.
"This tool connects almost all scholarly publisher websites directly with our subscriptions," Broughton said. "Just download the LibKey Nomad extension for the browser you are using (Chrome, Firefox, etc.) and choose 'Ohio University' from the list of libraries. Then, when you are on the site of a publisher for a title you have direct access [to the full text] … Through libraries.
The LibKey browser extension is easy to install and is currently available for Google Chrome, Firefox, Microsoft Edge, Brave and Vivaldi.
TO take full advantage of the tool and for more information on installation and connection to the LibKey browser extension, Check FA of librariesQ or contact the Specialized library librarians if more help is needed.