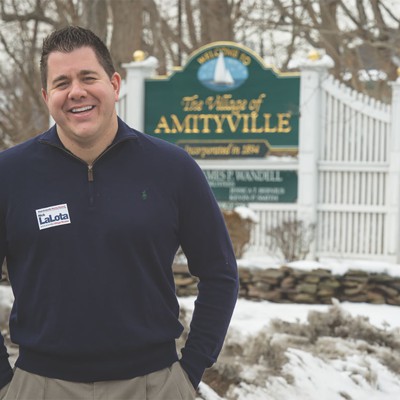 Republican candidates in two of New York's battleground congressional districts who prefer to impose more restrictions on abortion access have updated their campaign websites in recent weeks to reflect some exceptions to their positions relatively harsh.
Nick LaLota and Brandon Williams, GOP candidates running New York's 1st and 22nd congressional districts, respectively, have both made changes to sections of their campaign websites that discuss their views on abortion. While previously not mentioning any exceptions to their anti-abortion stances, both websites now mention that candidates would not oppose abortion in cases of rape, incest, or when the health of the mother is in danger. The changes appear to have been made after the primary elections last month.
"Brandon will always promote life while standing with young mothers to make sure the choice is protected in the event of rape, incest or the life of the mother," said the current version from Williams' website reads.
Williams, an entrepreneur running against defense policy adviser and Democrat Francis Conole in central New York, had already expressed during the Republican primary that he was not totally opposed to abortion in these cases. But this nuance was not previously reflected on its website. Until at least August 30, Williams' page on abortion said in full: "I am pro-life by faith; abortion puts an end to all future possibilities of the life it extinguishes. No one is more vulnerable than the unborn child and we must protect it. Federal taxpayers' money should not go to any abortion provider and we must support the education of expectant mothers about alternatives to the message of the abortion industry. While this section of the website was previously titled "Pro-life", it is now simply titled "Life".
LaLota, the former commissioner of the Suffolk County Board of Elections, is running against Suffolk County Democratic Legislator Bridget Fleming on Long Island. Until August 31 at least, a page on the LaLota website titled "Protecting Life" focused on supporting the recent U.S. Supreme Court overturning of Roe v. Wade and called on New York to ban third-trimester abortions and institute stricter parental notification requirements for minors.
This section of the LaLota website has since been expanded. "I do not oppose abortion in cases of rape, incest or to save the life of the mother", the page now reads.
But the updated page also goes into more detail about aspects of LaLota's stance on abortion that don't seem to have softened at all. He now mentions that he is not only opposed to third trimester abortions, but also to second trimester abortions. LaLota presents this as a middle ground, however. "Abortion is a divisive personal issue, but I will lead the charge to find common ground – and that eliminates second and third trimester abortions," its website now reads.
"Nick's position on abortion has not changed. It remains in tune with the overwhelming majority of Americans opposed to extreme late-term abortion policies and in favor of common-sense parental notification laws," LaLota campaign manager Lauren Lembo wrote in an email. "The website has been updated to highlight the direct contrast to her general election opponent Bridget Fleming, who is out of touch with these issues."
The Williams campaign could not immediately be reached for comment.
Following the Supreme Court's overturning of Roe v. Wade earlier this year, access to abortion became a key issue in battleground states across the country as Democrats try to hold onto their majority in Congress. Newly elected Democratic Representative Pat Ryan successfully highlighted abortion access as a major issue during the special election for New York's 19th congressional district last month. Republicans in other battleground districts began to soften or completely scrap references on their websites to radical anti-abortion views as well.
FiveThirtyEight is currently ranking the race between Williams and Conole in the 22nd arrondissement as the most competitive House race in the country. Conole tried to put abortion access at the center of the race, focusing its first campaign television ad on Williams' general opposition to abortion. Racing in the 1st District also ranks among FiveThirtyEight's 50 Most Competitive Districts.
Despite new references on their websites to allowing abortion in cases of rape, incest or risk to the health of the mother, Williams and LaLota have relatively strict positions on access to abortion – in particular in a State where a large majority supports legal abortion in all or most cases.
A new line on LaLota's website suggests the candidate is aware of this and is adopting a more subdued tone. "Obviously, this is an issue that divides many Americans," the website now reads.