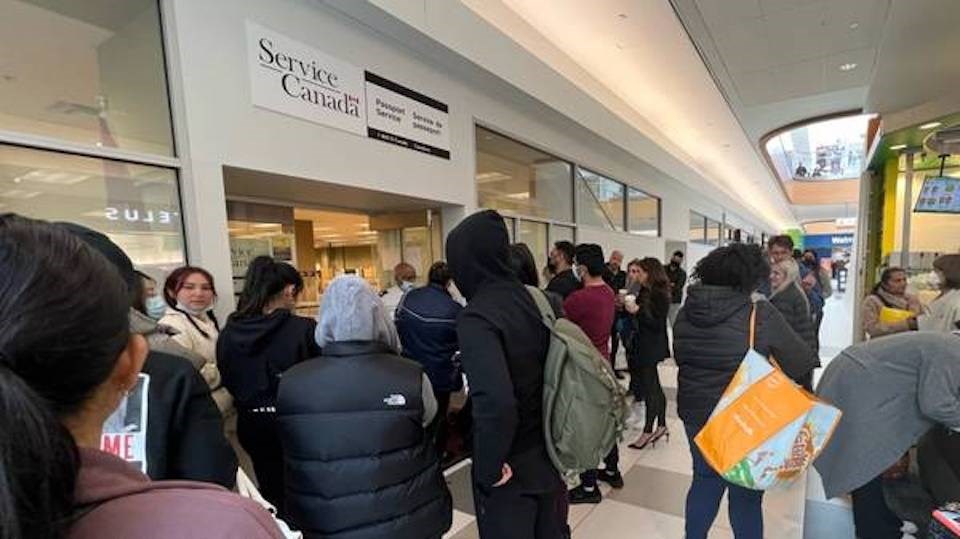 Locals continue to take advantage of the passport crisis by offering to line up for just under a grand. 💸
People continue to post ads offering to reserve space in Metro Vancouver's passport queues weeks after exasperated residents shared photos of gargantuan queues snaking around the offices of Service Canada.
As travel opens up around the world, Canadians have flooded Service Canada with passport applications. The agency processed nearly 1.3 million passports between April 1, 2021 and March 31, 2022, a sharp increase from the roughly 360,000 passports processed in the previous fiscal year.
Residents of Metro Vancouver continue to face long waits at passport offices, with many turned away after waiting more than eight hours. Lauren Skinner writes on Twitter that she was sent home after waiting eight and a half hours with an 8 month old baby. He was told to come back the next day and that the queue started at 6pm in the evening not in the morning.
In response, one man joked, "Like people camp overnight? Does a passport come with the latest iPhone and Ariana Grande tickets?!"
Sharon Stewart took to the social media platform after receiving an $80 parking ticket from Concord Pacific as she queued for a passport at Central City in Surrey.
Federal Passport Canada: "passport line holders"
In early May, advertisements for "passport line holders" began appearing on online forums such as Facebook Marketplace, Craigslist Vancouver and through personal websites.
For many people, queuing for several hours is either impossible given their schedule or just a frustrating inconvenience. Some of these people were desperate for an alternative to waiting all day, prompting several people to offer to wait on their behalf for a fee.
One of the most eye-catching ads asked for a whopping $800 for overnight wait service at the Sinclair Center in downtown Vancouver. The seller's post is still live on Facebook Marketplace.
Andrea Steinke writes: "If you don't have an appointment to get your passport, you have to queue at night to get your passport. But if you're not ready (which is understandable), I'll keep your place in line for you so you can show up at 8:30 and sleep through the night!"
Other displays offer similar services, with prices ranging from $20 per hour to $360 for "one night queuing from 9:00 p.m. [to] 5:30"
Service Canada says it has seen a surge in demand for passport renewals, which has led to long lines and longer waits for documents.
The federal agency aims to process passports within 20 business days for mail-in applications, but currently the average wait is 26 days.
About 72% of requests are processed on time, but some take much longer.
With files from The Canadian Press